How to Get Sales on Etsy without Advertisements [2023 Guide]
Etsy is a leading eCommerce platform that connects sellers with potential buyers. Etsy provides support for entrepreneurs to start an eCommerce store business and connect with customers they may have never met. Etsy is well-known for vintage products, craft items, bags, clothing, home decor, beauty products, jewelry, and many other categories.
Most new Etsy sellers think that it is impossible to get sales without using Etsy Advertisements. But it is not. Here are 14 proven methods to get sales on Etsy without using Etsy advertisements.
1. Focus More On Shop Branding
The primary fact that should be in your mind is that Etsy is a virtual platform. This means, your customers see your business through your Etsy shop. When your customer visits your Etsy shop, they will notice your cover/banner image, shop icon, shop name, your (shop owner) profile, and the images of your product listing.
Branding plays a key role in this. You should have a professional logo for your Etsy shop and also a branding kit/color theme. The color combination that you are using for the shop icon, cover/banner image, and product listing should match together according to your branding kit. You should use the same matching color combination for every single image to uplift your brand visibility.
Shop Cover / Shop Banner
Add a store motto to the Etsy shop cover or banner.
Choose carefully whether you will use a cover or banner. The cover photo is more visible than the banner.
Use a branding KIT (a solid color theme for your brand).
Use soft colors.
Recommend not to include product-related descriptions.
Use an image created with the correct resolution.
Shop Icon
Recommend to have a professional brand logo and include this as the shop icon.
The logo should be aligned with the Branding KIT of your business.
Recommend not to include product image as the shop icon.
Bio and Shop Owner Profile Picture
Describe yourself.
Do not hide. Use your photo. This enhances customer confidence.
Make your bio personal by describing things about yourself and your business. Why you have started the business and your purpose.
Attractive Shop Name
Recommend having a unique name for your shop.
The shop name should be professional.
Summary: In simple terms, your Etsy shop should be filled professionally to bring credibility to your business. Think that even you will not buy a product from someone else if you do not feel confident right? Your customers also like the same. As a new seller, you don't have much sales count or favorite/follower count to show your credibility, so you can showcase your credibility through your branding.
Take a look at the following article to find the 20 top-selling shops on Etsy. Check out how these prominent shops have done their branding well.
2. Include Videos in Your Etsy Listings
Do videos help to drive traffic? Why? Here is the explanation.
Sometimes buyers can not get valuable information about the products by only seeing photos. Videos help buyers to see the product from different angles and also boost their confidence. They will get an idea of how the product is in practical use. Also, this ensures the transparency of the product.
There are many ways of shooting product videos. The most common ways are that: you can show your product in use, highlight the details of the product, or else address common questions about the product. You can have a combination of these in your video as well.
Check out the below resourceful article published by Etsy.com on listing videos,
3. Discover Most Suitable Keywords for Your Product Listings
Keywords are the words and phrases that people type into the Etsy search bar. Keyword research is the process of analyzing and identifying the product search queries that shoppers use on Etsy.
Whenever a person enters a search term (search query) on Etsy, the Etsy search algorithm collects all the listings that match the product keywords matching the shopper's query.
You will never get traffic from Etsy if you don't have the proper keywords which your potential buyers are searching for.
Following are some proven ways for you to do keyword research.
When you begin to enter a search query, Etsy will suggest the remaining part according to the common search queries used. It gives you an understanding of what people are searching for on Etsy in similar terms.
You can enter the beginning part of the main keyword followed by different letters of the alphabet. As an example, you can enter "t shirt for a", "t shirt for b" likewise and the auto-suggestion will provide you a whole new list of potential keywords.
Trace Competitors Keywords
Search your product keywords on Etsy and check the products which rank on the first page. There are google chrome browser extensions that show the tags seller added to their product listing. You can include the same keywords in your products.
You can use famous Etsy keyword research tools like Marmalead, Erank, and Alura. These tools will automatically pull keyword ideas from its database.
When you try to search extended keywords of seed keywords, you will find two different variants.
On the first variant known as short-tail keywords, you will find keywords that have high search volume and high competition. On the other variant known as long-tail keywords, you will find keywords that have low search volume and low competition.
Your chances of showing your product on the first page of search results will be high if you are using long-tail keywords.
Analyze Keywords In Terms of Demand, Competition, and Relevancy.
There can be even thousands of related keywords which you find during the keyword research. But you should properly analyze those in terms of demand, competition, and relevancy for your product listing. Displaying your product in a non-related keyword will be a complete waste.
Read the Below Article To Refer More About the Keyword Research,
4. Read Continuously About Top Trends Publish By Etsy
Etsy is a platform that continuously researches the trends to help their shop owners. Etsy has published trends of various niches/products throughout. You can align your product portfolio and product strategy according to these trends.
Etsy publishes this information in the Etsy News (https://www.etsy.com/news?ref=news). Have a look on Etsy News once a month maybe. so that you can be updated on the latest trends in your product niche.
As an example, Etsy has published the below articles in their news which are related to trends.
5. Write Product Descriptions Correctly
Etsy product descriptions serve buyers to learn all about the product before ordering it. There are plenty of buyers who will not read the full product description, but there are also plenty who will. You need to write your product description keeping both in your mind.
Following are some tips for you to write product descriptions correctly,
Create Your Own Product Description.
Don't just copy-paste the pieces of other sellers' product listings. Try to create your own product description using your own words. This will help to create a genuine product description.
Just imagine your product. Try to understand in consumer's point of view. How this product is useful? Why should I buy this? What are the specifications of this product? likewise.
Have some questions about the product with yourself. Try to write a description that answers those questions clearly. Use short paragraphs, sentences, and lists. Lists will help you to showcase the product specifications in a very neat and reader-friendly manner
Use the free tool Grammarly to verify your spelling and grammar. This will enhance professionalism in your products.
Try to write from a first-person perspective. Your potential buyer will feel confident and genuine about your product. Be polite, professional, respectful, and write it like you are recommending the product to one of your friends
More than 50 percent of traffic to Etsy arrives from mobile devices. Shoppers are more likely to read your product description from their mobile, a smaller screen. You should be mindful to create descriptions that are brief and impressive. You can include the most important information in the beginning to draw attention.
You should be truthful when writing the product description. It should be precise. Otherwise, your return rates will be high.
6. Use Excellent Product Photographs
In any eCommerce store, customers will click the product by first looking at the product photo. You should have excellent product photographs in your store.
It is not essential to have an expensive DSLR camera to capture product photos. You need to have a decent smartphone that can capture photographs. Lighting plays a huge role in increasing the product photo quality.
The easiest and most professional way is to use a lightbox as the background and capture product photographs.
7. Make a Blog Website
Having only an Etsy shop is not enough to establish your credibility in your niche. Your brand should have a separate website to share the essential information regarding your products. This will be a great way for your customers to see your brand verified in the online world.
You can publish various articles related to your niche. Guides, product reviews, and how-to articles play a huge role. This will boost the customer's trust in your brand.
8. Shipping and Return Policies
Customers usually read the return, refund, and shipping policies before buying the product. You need to focus on the refund, return, and shipping policy. Try to keep these policies customer-friendly, understandable, and easy to read. Don't forget to check the policies published by bestsellers in your niche.
9. Use Shop Announcements
Your Etsy shop announcement can be used to tell your buyers why they are here and what makes you great. This is an excellent way to promote your brand and products.
When your customer visits your shop, they will see the shop announcement before your listings, about, policies, and other information.
Etsy announcements should be used to create some buzz and promote your products.
Refer to the below article to get an idea with examples on how to use Etsy Shop Announcements,
10. Utilize Social Media and YouTube
Pinterest is now the leading social media and visual search engine platform to drive traffic to eCommerce sites, blog websites, and Etsy stores. Make sure to create an amazing Pinterest profile and create regular pins about your products and related articles. This will help you to increase the visibility of your Etsy shop across the online community.
It is important to promote your brand outside Etsy to be a very successful Etsy seller. Facebook and Instagram are the leading social media platforms available.
These platforms will help you to attract new customers to your shop and your product listings. You have to simply share the same products on Facebook and Instagram accordingly with proper attractive descriptions. Also, you can share product guides, and product reviews to enhance your credibility.
You can also distribute coupon codes via these social media platforms.
Youtube is a great platform for you to share your products, review your products, how to use them, product guides, and tips. This is a great platform to showcase your credibility to your potential customers.
11. Use Etsy Offers
Etsy offers you to provide discounts to your buyers using the below methods,
Run a sale – discount will be visible for your product.

Send offers to Etsy shoppers
Create a coupon and share it with anyone (using social media/youtube/etc).
There is a tendency for the shoppers to buy the products when there is a discount. You will be able to capture sales by providing discounts to your customers.
12. Make Sure To Respond to Customer Messages Within A Few Hours
Make sure to respond to customer messages within a few hours. This will be added to the seller's section, which showcases your credibility to your potential buyers. See the below screenshot to understand how this reflects on Etsy,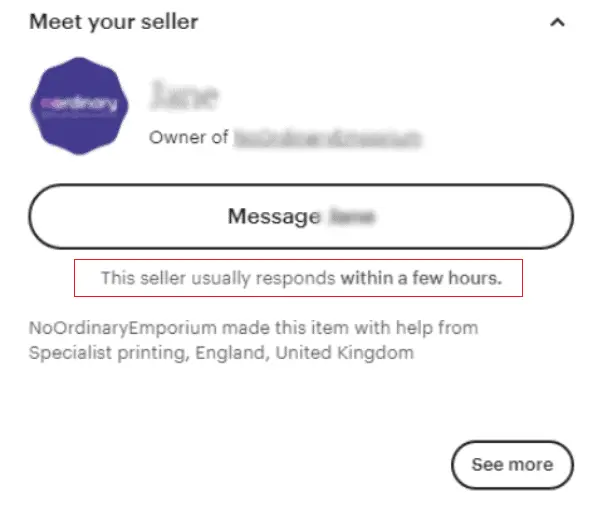 13. Consider Free Shipping
Free shipping is a fantastic way to assure the sale of a lead that you got into. People prefer if the store offers free shipping. You can offer free shipping if the order is more than a certain amount. This will help to increase the sales of your store.
14. Request your Customers for a Review
Customer review is a great way to improve new sales. You can request your customers politely to review your product. These reviews will be displayed to buyers when they view the product.
Read More:
Bonus Article
Most ladies like you have the willingness to start their own small business, rather than work for somebody else. Having your own business gives you a bigger sense of purpose and personal fulfillment.
Read the below article to find our consolidated list of Business Ideas for the Ladies at Home (Housewives),